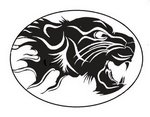 Once a Panther, Always a Panther!
LUNCH
TODAY: Meat Loaf and Mashed Potatoes
2/19: NO SCHOOL
2/20: Potato Soup with Homemade Bread
2/21: Hamburgers and Sweet Potato Tots
2/22: Ethan's Favorite Pizza Pasta
2/26: Spaghetti and Cheese Sticks
2/27: Pork Chop Sandwiches and Tator Tots
2/28: Chicken Fajitas
Fresh or canned fruit and 1% milk served daily.
Sports
BASKETBALL
District Basketball Tournament this Thursday, Friday, and Saturday. Times: GBB will play at 4:30 on Thursday against Whitehall and the Boys play at 6:00 against Manhattan.
Girls leave at 2 Dismiss at 1:45 Boys leave at 3:15 Dismiss at 3
Band and cheer leave at 2:45 Dismiss at 2:30
Make sure you have a consent form into the office before you leave
General Announcements
NO SCHOOL MONDAY
Skills USA meeting today at lunch
Youth Alive is collecting used shoes to send to children around the world. Please bring them to Jadyn Armstrong, Britton Peterson, or Noah Anspach.
Thought for the day:
"You must strive to find your own voice because the longer you wait to begin, the less likely you are going to find it at all."
-Robin Williams
Have a great day JHS!