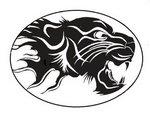 Once a Panther, Always a Panther!
LUNCH
TODAY: Chicken Fajitas, salad bar
5/24: School dismissed at noon. No lunch served.
Fresh or canned fruit and 1% milk served daily.
Sports
Track - State Track May 25-26 in Laurel. Leave time is noon tomorrow. Be sure your check out sheets are at the office before you board the bus.
LAST DAY OF SCHOOL
11:00 - 12:50 6th Period
12:50 - 1:20 LUNCH
1:23 - 3:13 7th Period
Thursday, May 24th
School will dismiss at 11:55. Busses will run at 12:00. Have a great summer!!!
Be sure to pay any fees or fines before you leave or report cards will be held. It is always a good idea to bring money for any unexpected book fines.
Track Athletes: For those not attending the state meet be sure to return your washed, clean track uniform to the office or Mrs. Layng in a bag with your name on it.
Order your yearbooks today. Order forms are at the front office and the library. They are $35.
Thought for the day:
Have a great day JHS!