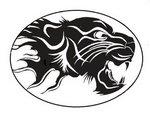 Once a Panther, Always a Panther!
Today: Tacos
5/24: Pork Chop Sandwiches
5/25: NO LUNCH!! DISMISS AT NOON!!
Fresh or canned fruit and salad bar are served daily.
Sports:
TRACK: State Track in Butte this Friday and Saturday. Bus leaves Thursday at 2 pm, Friday and Saturday
General Announcments
Please check with the front office for any fees or fines you may have. It is always good to bring a few dollars with you on the last day of school to pay any book damages. Remember: Report cards will be held for any monies owed.
Football players get camp forms into Coach Layng ASAP.
Links for WInter and Spring Sports Surveys are on the school website under School Spotlight. Please complete the survey if you were a participant.
Late bus will run today after school and at 5:45 pm.
School and bus schedule for Wednesday:
Morning busses will run 1 hour later.School starts at 9:00 amLunch is at 12:50 pm
Students will be released at 3:13 pm. Busses will run after school. Basin and Valley busses will run @ 3.24. Late bus will run at 4:45 pm.
Thought of the day:
Is it Friday yet?